| | | |
| --- | --- | --- |
| | Boeing B-17 Flying Fortress | |
The Boeing B-17 Flying Fortress is one of the most famous airplanes ever built. It served in every World War II combat zone, but it is best known for daylight strategic bombing of German industrial targets.
In the early 1930s, the U. S. Army Air Corps began focusing on daylight precision bombing of strategic land targets deep behind enemy lines. In August 1935, Boeing introduced the Model 299, the prototype XB-17, during an impressive non-stop flight that covered 3,381 km (2,100 miles) from Seattle to Wright Field at Dayton, Ohio. It easily beat two other bomber designs, but few funds were available to purchase new airplanes. By 1939, only thirteen B-17s were in inventory.
Concerned by German and Japanese aggression against other countries, President Roosevelt directed the air Air Corps to increase its bomber strength. When the Japanese attacked Pearl Harbor on December 7, 1941, there were 200 B-17s in service. These first models lacked defensive armament and armor, but once they were added, the plane became known as the "Flying Fortress." It carried the burden of the strategic air war in Europe to the enemy and reduced German cities to rubble. Production ended in May 1945 and totaled 12,726.
The Smithsonian has one of the first thirteen B-17s and its located in its aircraft storage facility in Silver Hill, Maryland. Other examples are on display at the Air Force Museum.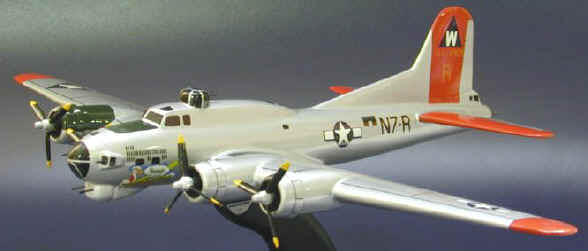 Boeing B-17 "Sentimental Journey"
A beautiful new model from our Premier Series. This magnificent model is hand carved from Philippine mahogany then carefully sanded, sealed and hand painted. 1/56th scale. 22.5" wingspan by 16.5" length. No. AEB1D-SJ. Only $174.95
B-17G "A touch of lace"
Premier Series. Same as above.
No. AEB1D-LA. Only $174.95
B-17 G "Memphis Belle"
Premier Series. Same as above.
No. AEB1D-MB. Only $174.95
B-17G "Shoo Shoo Baby"
Premier Series. Same as above.
No. AEB1D-SS. Only $174.95
B-17G "Sentimental Journey"
Premier Series. Same as above.
No. AEB10-SJ. Only $174.95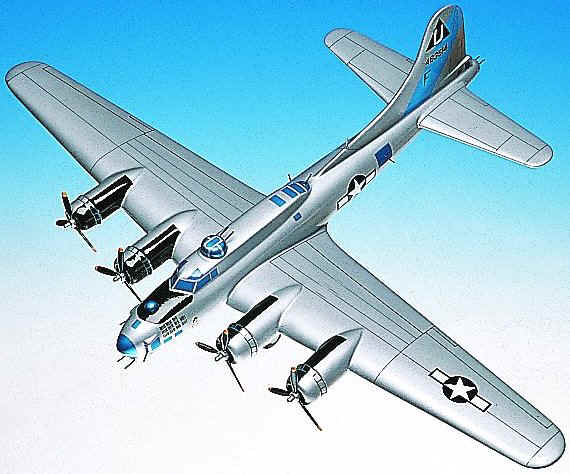 B-17G Flying Fortress "Silver Ghost"
From our Deluxe Series. 1/54th Scale. 23.5" wingspan x 16.8" length
No. AEB1D-DX. Only $139.95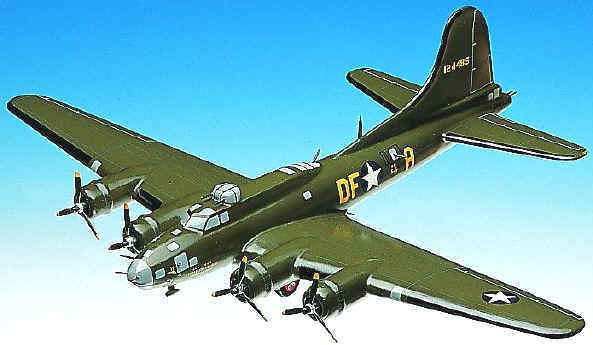 B-17G Flying Fortress "Memphis Belle"
From our Deluxe Series. 1/54th Scale. 23.5" wingspan x 16.8" length
No. AEB1D-M2. Only $139.95
B-17s from out Standard Series
1/72nd scale. 17.25" wingspan by 12.5" length
B-17G Silver & Red
AEB1D-S1. Only $119.95
B-17G Army Green
No. AEB1D-S2. Only $119.95