| | | |
| --- | --- | --- |
| | Vought Corsair F4U | |
In production longer than any other U.S. fighter in World War II (1942-1952) with 12,582 built, the Vought F4U "Corsair" had several claims to fame. It was credited with an 11:1 ratio of kills to losses in action against Japanese aircraft and was the last piston-engine fighter in production for any of the U.S. services. Built around a powerful 2000 hp, double-bank radial engine, the distinctive feature of the F4U was the inverted gull-wing that provided less drag in flight, allowed for shorter landing gear to accommodate an oversized propeller, and enabled the wings to be folded directly over the canopy with room to spare on the hangar deck. The shorter landing gear permitted rearward retraction which in turn allowed for greater wing-fuel capacity. Due to inadequate cockpit visibility, adverse stall characteristics at slow approach speeds, and a tendency for the tail-hook to not engage due to aircraft bounce when it hit the carrier deck, the F4U was restricted from carrier operations until late 1944. In the interim, Marine Corps and some Navy squadrons were actively engaged in Pacific combat operations beginning in early 1943 from land-based island locations. One Marine Corps squadron was credited with downing 135 aircraft over an eighteen month period and produced ten aces. One Marine pilot went so far as to down an enemy aircraft with his propeller.
The famous Marine Corps "Black Sheep" squadron led by Major Gregory "Pappy" Boyington accumulated ninety-seven aerial victories over a twelve week period with "Pappy" accounting for twenty-two of them including five on one mission. These WW II kills by Boyington were in addition to six others accumulated earlier while serving with the Flying Tigers in China. One Navy fighter squadron (VF-17) known as the "Jolly Rogers" shot down 154 Japanese aircraft over a seventy-six day period including sixty in one five-day period.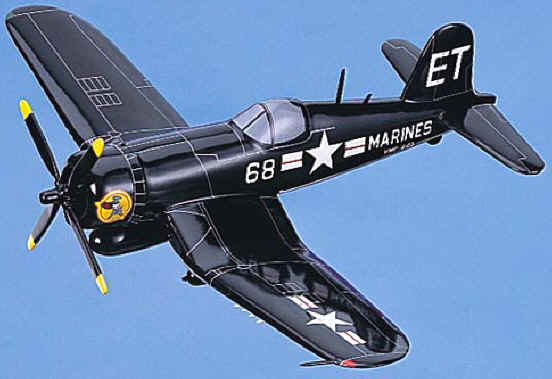 Corsair F4U-1A Marines Corps
From our Premier Series. 1/28th scale. 14" wingspan by 14" long
No. AEN2D-BR. Only $174.95
Corsair F4U-1A. Marine Corps - Loaded.
Shown above. 1/28th scale. 14" wingspan by 14" long. Carries rockets, etc.
No. AEN2D-BL. Only $194.95
Corsair F4U-1A - US Navy
Premier Series. Same size as above.
No. AEN3D-AR. Only $174.95
Corsair F4U-1A - US Navy - Loaded
Same, compete with rockets, tank, etc.
No. AEN3D-AL. Only $194.95
Corsair F4U-5N Night Fighter
Premier Series. Same size as above.
Comes loaded with rockets and tank.
No. AEN2D-GL. Only $194.95

Corsair F4U-5N Marine Night Fighter
Deluxe Series. 1/32nd scale.
16.25 wingspan by 12.35 long
No. AEN2D-D1. Only $149.45
Corsair F4U-1A - US Navy
Standard series.
1/32nd scale. Wingspan 15" by 12.5" length.
No. AEN2D-S2. Only $119.95
Corsair F47-1A - US Navy
1/48th scale. Wingspan 10.5" by 8.25" length
No. AEN2D-JR. Only $69.95
Corsair F4U-N5 - Marines
Special Night Fighter. Loaded with weapons. Standard series. 1/32nd scale.
Wingspan 15" by 12.5" length.
No. AEN2D-S1. Only $139.95