Ford Tri-Motor 5-AT
One of the most important events in the selling of aviation to the general public was the entry of Henry Ford into aircraft manufacturing. The Ford automobile was at the time the symbol of reliability, and it followed in the minds of a good many people that a Ford airplane would be safe to fly. And it was. Inspired by the highly-successful Fokker F-VII Tri-motor, The Ford Tri-motor was a rugged, dependable transport airplane, which won a permanent place in aviation history. It underwent several design changes. Increasing airline use and the availability of the new Pratt and Whitney 420-hp Wasp engine led to the 5-AT model in the summer of 1928. It became the most famous the Ford Tri-motor aircraft. Ford stopped producing aircraft in 1933. The company had built 199 of its famous aircraft. They were flown by more than one hundred airlines in the United States, Canada, Mexico, Central and South America, Europe, Australia, and China.
The incredible durability of the aircraft is well proven by NC9683, the thirty-ninth 5-AT built by Ford. It was sold to Southwest Air Fast Express (SAFE) on April 12, 1929. American Airlines bought out the airline the following year, acquiring the Tri-motor in the process. During 1931, it flew the routes of Colonial Air Transport, a division of American. Later, it flew on the transcontinental route between Cleveland and Los Angeles. In May 1934 it was transferred to the Chicago base until it was retired from American in 1935. It was sold to TACA International Airlines, and operated in Nicaragua. In 1946 the tri-motor was sent to Mexico, where it was used for passenger and cargo hauling until 1954. It was then sold to a crop-dusting company in Montana, but also flew a cargo route in Alaska until it was resold in Mexico. It finally ended up beside a small airfield as someone's living quarters. A wood burning stove had been installed, and a chimney stuck through the aluminum roof.
American Airlines required NC9683 in 1960 and restored her. Soon the proud old bird was flying public relations tours promoting the airline. It had the honor of making the first regular commercial flight from the new Dulles International Airport, Virginia, in November 1962. At the close of its public relations career, it was donated to the National Air and Space Museum, where it now hangs in the Air Transportation gallery.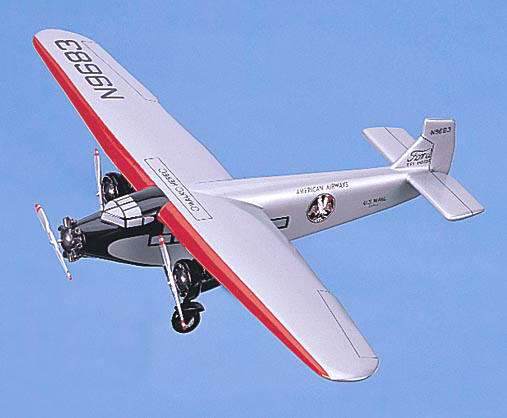 Ford Tri-motor AT-5C - American Airlines
From our Premier Collection. Hand-carved Philippine mahogany carefully finished and exquisitely hand detailed. 1/48th scale. 11" wingspan x 12.5" length.
No. AAF1D-PR.
Deluxe Models
Also hard carved from Philippine mahogany. Machine and hand detailed.
Larger than the above. 18" wingspan x 18" length.
Ford-Tri-motor - American Airlines
No. AAF1D-D1. Only $159.95
Ford-Tri-motor - Pan American
No. AAF1D-D2. Only $159.95