Martin Aviation
In 1909, Glenn Luther Martin was a youthful businessman. Only 22 years old, he owned Ford and Maxwell dealerships in Santa Ana, California. Then he learned to fly. Soon he and the mechanics from his auto shops were building airplanes and by 1911 he was considered one of the famous "pioneer birdmen." In 1912 he incorporated as the Glenn L. Martin Aircraft Company. Unlike the companies launched by the Wright Brothers and Glenn Curtiss, which soon came to be managed by people other than their namesakes, the Martin Company remained for forty years under the direct control of its founder.
Glenn Martin had a taste for large planes, and his company came to depend on military orders and that meant bombers. "Martin Bombers" pioneered the doctrine of airpower in the 1920's and '30's and served in all theaters in World War II. meant bombers. The vast majority of the more than 11,000 planes built by the company before it ceased producing aircraft in 1960. What many people fail to realize is that Martin introduced the first plane to provide true intercontinental air service, his famous China Clipper. It was used for the design of the 1935 US Airmail stamps.

Martin Marietta, its corporate successor, continued to be a major defense contractor, producing missiles, space hardware, guidance systems, sonar, and avionics. Through its merger with Lockheed in 1995, the Martin Company rejoined the ranks of aircraft builders.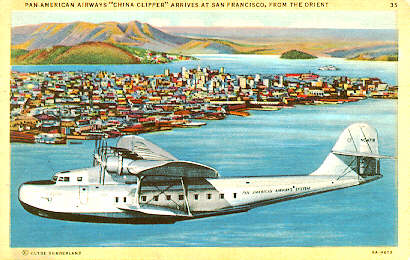 China Clipper Post Card
We have models of its most famous airplanes
Martin 130 China Clipper
Martin 404 Airliner