Airbus 300
The new consortium introduced the A300 fuselage at the 1969 Paris Air Show. It was the first twin aisle, twin-engine jetliner to provide passengers with real wide-body comfort and allowed operators the flexibility of seating first class, business and economy passengers. It also accommodated the industry-standard LD 3 containers side by side in the underfloor cargo hold. This was what airlines wanted and what no other manufacturer could supply.
Work on the first aircraft began late in 1971 and was finished in October 1972, on schedule. Air France ordered six, but went on to demand that Airbus produce a stretched, 250 seat version. They subsequently ordered six of this version and it was this airliner, the A300B2, that went into full-scale production. Following this success, Lufthansa ordered three A300s and took options on four more in the middle of 1973. By 1974, The Airbus A300 was certified on budget and ahead of schedule - a major first for European aerospace companies at the time.
By 1975 Airbus had contracts from three "foreign" airlines as well as from the domestic French carrier; Air Inter. By the end of the year the company had 10% of the market for 1975 and a total of 55 aircraft on order. The A300/A310 Family has grown to be the most popular mid-size airliner in the world. They are operated by more airlines in more countries than any competing aircraft.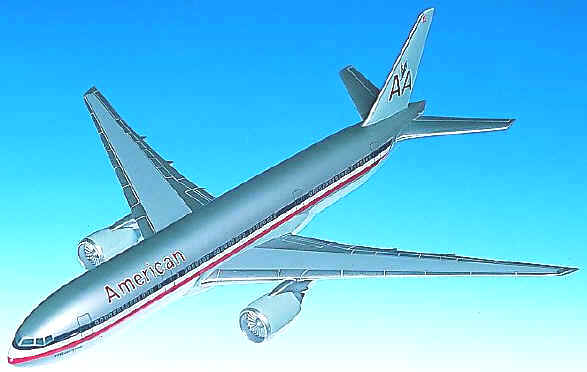 Airbus 300-600 - American Airlines
Standard Series. 1/100th scale. 17.65" wingspan x 21" long.
No. AAA1D-AM. Only $179.95