| | | |
| --- | --- | --- |
| | Wright "Kitty Hawk" Flyer | |
On December 17, 1903 the Wright Brothers made the the first successful first of a heavier-than-air flying machine at Kitty Hawk, North Carolina, starting the aerial age . Their airplane, known as the Wright Flyer, but sometimes referred to as the Kitty Hawk Flyer, was the product of a sophisticated four-year research and development program conducted by Wilbur and Orville Wright in which they pioneered many of the basic tenets and techniques of modern aeronautical engineering, such as the use of a wind tunnel and flight testing as design tools. Their seminal accomplishment encompassed not only the breakthrough first flight of an airplane, but also the equally important achievement of establishing the foundation of aeronautical engineering.
Their Kitty Hawk Flyer was formally donated to the Smithsonian Institution in an elaborate ceremony on December 17, 1948 the forty-fifth anniversary of the first flight, and it has been on public display there ever since. It is now in the Milestones of Flight Gallery at the National Air and Space Museum in Washington, D.C.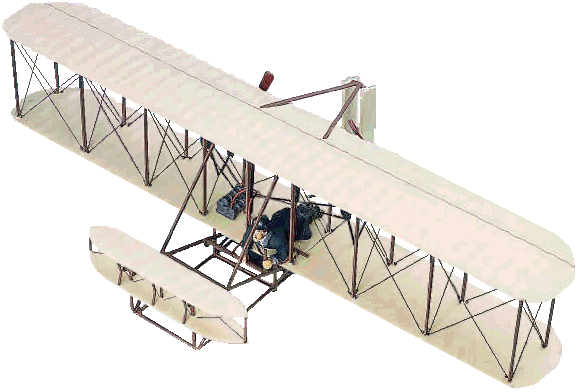 Wright Flyer
Deluxe Series model. Hand carved from Philippine mahogany. Carefully detailed.
1/24th scale. 20" wingspan x 10" long.
No. AB1AD-DX. Only $199.95