| | |
| --- | --- |
| Bell XP-59 Airacomet | |
The Airacomet was America's first jet-propelled airplane. Developed during World War II, it was such a top secret project that hundreds of flights had already been been made before it was announced to the public in 1943.
It began in August, 1941, by General H. H. Arnold, Commanding General of the Army Air Force. project was conducted under the utmost secrecy, with Bell building the airplane and General Electric the engine. The first P-59 was completed in mid-1942 and on October 1, 1942, it made its initial flight at Muroc Dry Lake (now Edwards Air Force Base), California. One year later, the airplane was ordered into production, to be powered by I-14 and I-16 engines, improved versions of the original I-A.
Bell produced 66 P-59s. Although the airplane's performance was not spectacular and it never got into combat, the P-59 provided training for AAF personnel and invaluable data for subsequent development of higher performance jet airplanes.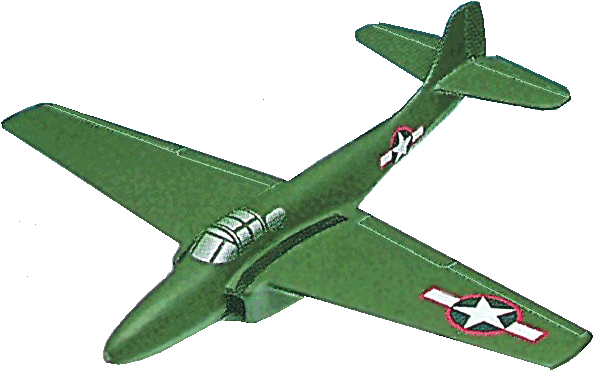 Bell XP-59A Airacomet
From our Standard Series. 1/48th scale. 11.15" wingspan x 9.25" length.
No. ABX2D-ST. Only $109.95