Dornier Do-X Seaplane
Claude Dornier was a man before his time. He born in German in 1884 and completed his education in 1907 at Munich's technical college. Three years later he began working at the Zeppelin airship factory. In 1911 he designed the first all-metal air plane, and Zeppelin permitted him to establish a separate division of the company, the Dornier aircraft works. It built both wooden and metal fighters for Germany in World War I.
After the war, he took over control of his aircraft factory. During this time, aircraft had such limited range, that manufacturers believed that seaplanes must be used for trans-oceanic routes. Dornier outdid everyone else. In 1929 he introduced the Do-X. It was the world's largest aircraft and its specifications were impressive - 157 wingspan and 52,000 kg take off weight. It was powered by 12 engines. The hull had three floors. The main floor provided passenger accommodations, the bottom one provided space for fuel tanks and baggage and the top floor contained cockpit, crew cabins, radio operator and flight engineer control panel. With 12 engines, a lot of flight engineering was required.
On October 21, 1929, the giant Do-X flew for one hour with 169 passengers on board. An incredible feat, but bad timing. The great Wall Street Crash occurred the next week and the world was thrown into depression. Toward generating interest in his giant plane that would hopefully result in sale, Dornier announced that he would fly the giant plane around the world. It turned out to be one of the great fiascos in aviation history. The trip was plagued with mechanical malfunctions, logistic problems, and accidents, but Dornier pressed on and completed the flight. But it took ten months.
The Italian air company SANA ordered two aircraft but they never entered service.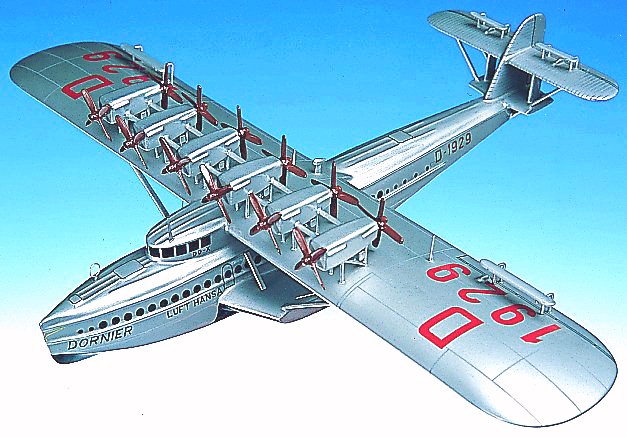 Dornier Do-X Seaplane
From our Deluxe Series. 1/100th scale. 19" wingspan x 15.75" long.
No. ABX8D-DX. Only $189.95