McDonald Douglas (Now Boeing) MD-11
The MD-11 was launched on Dec. 30, 1986 by the McDonald-Douglas Aircraft Company. First flight was on Jan. 10, 1990. Certification occurred Nov. 8, 1990, with first delivery on Dec. 7. The MD-11 is 18.6 feet (5.66 m) longer than the earlier DC-10 trijet, and carries about 50 more passengers.
The MD-11 is the world's only modern large, wide-cabin trijet. It offers a highly sophisticated flight deck and advanced automatic system controls that substantially reduces pilot workload. It is produced in Long Beach, California, at the Douglas Products Division of the Boeing Commercial Airplane Group.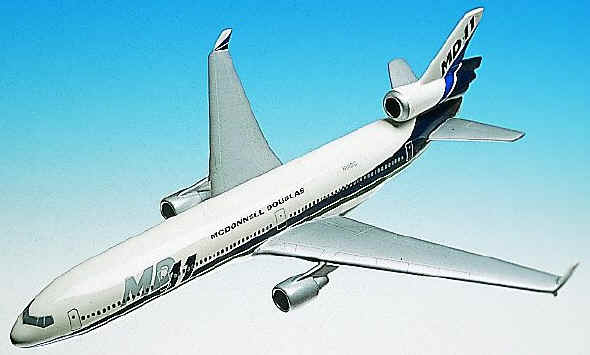 McDonald Douglas MD 11 - Demonstrator
High-Tech Series. 1/164th scale. 12.25" wingspan x 15" inches long. A beautiful model.
Discontinued
MD-11 - American Airlines
Same as above, except for markings.
AAM5D-AM. Only $129.95
MD-11 - Delta Airlines
Same as above, except for markings.
AAM5D-DE. Only $129.95