Walter Herschel Beech became interested in flight from a very early age and by the age of 14 he had designed and built his own glider. He made his first solo flight at age 19. Five years later he was a rated U.S. Army Aviator & Flight Instructor. He joined Swallow Airplane Company as a test pilot but some became general manager. In 1924 Walter joined forces with Clyde Cessna and Lloyd Stearman and co-founded Travel Air Manufacturing Company, located in Witchita, Kansas. They quickly established themselves as the world's largest producer of both monoplane and biplane aircraft. Travel Air managed to receive International recognition and respect by realising more than 200 performance records. Lloyd Stearman left Travel Air after a few very successful years and Clyde Cessna a year later to concentrate on monoplane design and building. Walter continued at Travel Air where he continued to build the famous Mystery Ship racers and won hundreds of transcontinental speed records during the late 1920s.
Mid 1929 saw the merger of Travel Air with Curtiss-Wright Airplane Company and Walter took the position of President of the new corporation's Aircraft Division. He longed to pursue his passion of aircraft design and in 1932 he decided to leave, move back to Witchita and set up his own company with Olive Ann called Beech Aircraft Company in rented space in the idle Cessna plant. His mission was to build biplanes that were faster and would go further than his rival monoplanes. Along with Ted Wells and Herb Rawdon, he set to work and soon the Beech Staggerwing Model 17R was ready. The Staggerwing established the reputation that has made the Beech name synonymous with reliability and quality for nearly seven decades.
The company grew large building military training aircraft during World War II. In the post-war era it became a leader in business aviation. Mr. Beech served as chief executive of the company until his death in 1950. Mrs. Beech succeeded him at the helm, and guided the company until her retirement in 1982. Under her leadership, Beech became a Raytheon Company in 1980. Mrs. Beech died in 1993.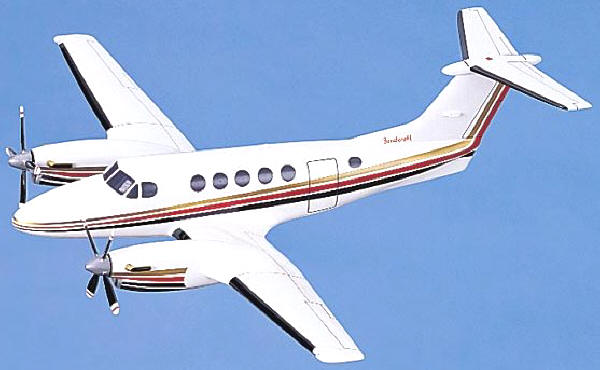 Beech King Air 200
Premier Series. 1/28th scale. 19.25' wingspan x 15.25" long.
No. APA0D-P4. Only $174.95
Beech D175 Staggerwing - Yellow
Premier Series. 1/26th scale.
15.5" wingspan x 12" long.
No. APA0D-P5. Only $174.95
Beech D175 Staggerwing - White
Premier Series. 1/26th scale.
15.5" wingspan x 12" long.
No. APA0D-P6. Only $174.95
Beech 36 Bonanza
Premier Series. 1/24th scale.
17.75" wingspan x 13" long.
No. APA0D-P1. Only $174.95
Beech 36 V-Tail Bonanza
Premier Series. 1/24th scale.
16.5" wingspan x 13" long.
No. APA0D-P2. Only $174.95
Beech G17S Staggerwing
Standard Series. 1/32nd scale
13" wingspan x 10" long.
No. APA0D-S2. Only $119.95
Beech Beechjet 400A
Standard Series. 1/48th scale.
10.85' wingspan x 12' long.
No. APA0D-S3. Only $129.95
Beech A-36 Bonanza
Standard Series. 1/24th scale.
16.5" wingspan x 13.5" long.
No. APA0D-S1. Only $119.95
Beech V-35 Bonanza
Deluxe Series. 1/24th scale.
16.85" wingspan x 12.25" long.
No. APA0D-DX. Only $129.95