Although never having seen an airplane in flight, Geoffrey De Havilland in 1909 constructed his first machine and through trial and error taught himself to fly. Since his early trials on the meadows at Seven Barrows, the name of De Havilland has been carried aloft by more than fifty aircraft. Notable among these were the classic DH-2 fighter of World War I, and the DH-4 light bomber which saw worldwide service and played a major role in the establishment of the U.S. Air Mail.
He established the new De Havilland Company at Stag Lane near London in 1920, beginning the long line of DH commercial and sport aircraft. The DH-18 was the first of his designs intended from conception to carry passengers. Then came the racers that established so many world records. Perhaps most significant were the beautiful Moths, born in 1925, which can rightfully claim to be the genesis for all light sport aircraft, and today after 47 years may still be found flying worldwide.
Flying was always the primary interest of Geoffrey De Havilland, even to his use of the private airplane as the normal mode of travel where others might use surface means. In his 70th year, he was still flying for sport. From the very first, he was the test pilot, always making the first flight of a new model. His was the ultimate relationship between design and test flying. He was the presiding genius and innovator who typically gave credit to the team.
The great De Havilland triumph in World War II was the magnificent Mosquito light bomber of novel design and the fastest aircraft of its time. In 1943, De Havilland entered the jet age with the Vampire fighter powered by a DH Goblin jet engine. De Havilland led the world in entering the era of jet passenger flight with its first turbine powered aircraft, the Comet in 1949.
Sir Geoffrey De Havilland, the grand figure of British aviation, died in 1965. The company he founded moved to Canada and since produced some of the world's finest seaplanes.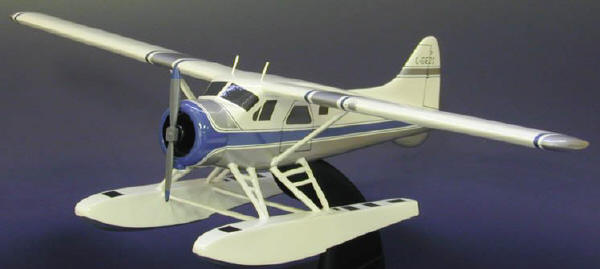 de Havilland DHC-2 "Beaver"
Premier Series. 1/40th scale. 18" wingspan x 13" long.
No. APC0D-P2. Only $209.95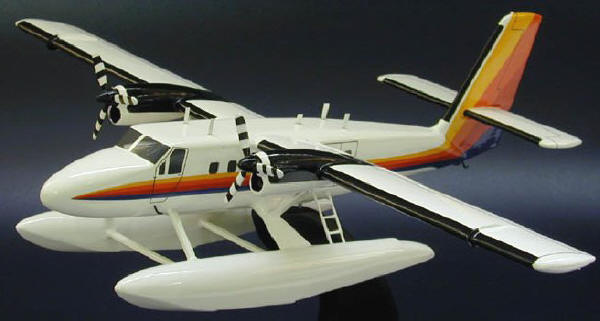 de Havilland Twin Otter
Premier Series. 1/40th scale. 17.85" wingspan x 12.25" long.
No. APC0D-P4. Only $209.95
de Havilland DHC-3 "Otter"
Premier Series. 1/28th scale.
21.5" wingspan x 14" long
No. APC0D-P3. Only $209.95
de Havilland DHC-2 "Beaver"
Premier Series. 1/40th scale.
18" wingspan x 13" long.
No. APC0D-P1. Only $209.95