Boeing 747-200
The mid-1960s saw an enormous increase in jet airliner traffic. It soon became apparent that larger, more efficient planes needed. Boeing's entry into this market began with the 747. It was also designed to serve as an all-cargo transport. The first ones could easily carry 100 tons across the Atlantic Ocean or across the United States, at thirty-five percent less cost per mile than the 707. The 100, 200 and 300 series differ primarily in structure and internal configurations. Externally, they are virtually identical. Two of the 747-200 were specially modified for presidential use and serve
as Air Force One.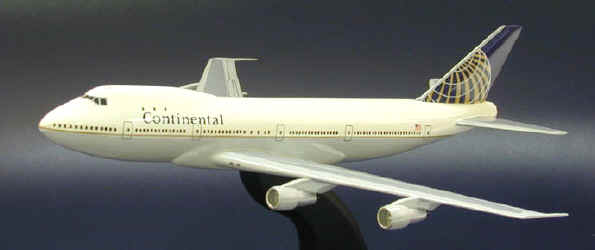 Boeing 747-200 - Continental
Photo shows the meticulous detailing that goes into our Premier Series. All such models are hand carved from mahogany are exquisitely finished. The detailing is unsurpassed. This model is 1/75th scale. It measures 16.5" (wingspan) by 14.5" length.
No. AAB50-CA. Only $194.95
Standard Display Models
Precision molded of hi-impact plastic. Beautiful finish faithfully reproduces the original aircraft markings. Durable models that are easy to clean and maintain. Suitable for airline offices, ticket counters and other exposed locations. All models are same size: 12" Wingspan by 14" long.
Boeing 747-200 - North West
No. AAB4D-NW. Only $119.95
Boeing 747-200 - Pan Am
No. AAB4D-PA. Only $119.95
Boeing 747-200 - TWA
No. AAB4D-TW. Only $119.95