Boeing 377 Stratocruiser
Boeing's resources were devoted to building military planes during World War II. Once it was over, the company re-entered the commercial market with a new long-range airliner, the Stratocuiser (Model 377). It was based on the B-29 bomber. It set a new standard for luxurious air travel with its tastefully decorated extra-wide passenger cabin and gold-appointed dressing rooms. A circular staircase led to a lower-deck beverage lounge, and flight attendants prepared hot meals for 50 to 100 people in a state-of-the-art galley. A sleeper version was equipped with 28 upper-and-lower bunk units. The long range made them especially suited for long range flights, such as across the Atlantic. Boeing built 56 Stratocruisers but they were soon made obsolete by the new jet airliner, the Boeing 707.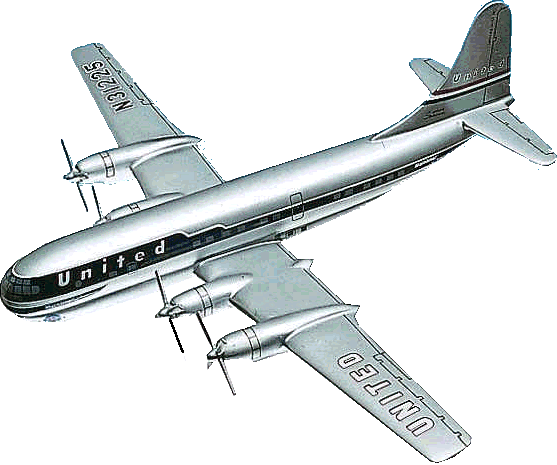 All of the display models on this page are from our Deluxe Series. They are carved from mahogany and carefully painted using mass production techniques. All are 1/100th scale. Wingspan is 16.5"
x length 13." As with all our models, they are ready to display.
Boeing 377 - United Air Lines
Shown above.
No. AABCD-UN. Only $139.95
Boeing 377 - American Airlines
Shown at left
No. AABCD-AA. Only $139.95
Boeing 377 - Northwest Airlines
Shown below.
No. AABCD-AA. Only $139.95
Boeing 377 - Pan American Airways
Shown below.
No. AABCD-AA. Only $139.95

North West Airlines
Pan American