Boeing 747-400
From its first flight in 1969, the 747 has been an airplane of superlatives: It was bigger, flew further and carried more people than any other commercial airplane. Today, that's still true. The latest model, the 747-400, can fly 416 to 524 passengers about 8,400 miles and is available in four models. It has a two pilot digital flight deck, a new interior and is powered by stronger, more efficient engines. It is easily distinguished from earlier models by its turned up wing tips.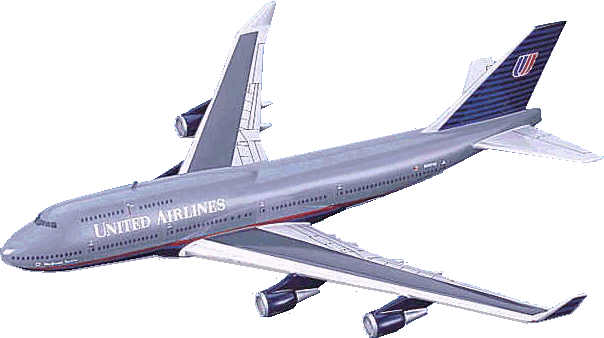 Boeing 747-400 - United Air Lines
Magnificent display model from our Premier Series. Hand carved Philippine mahogany carefully finished with many coats of primer, paint and sealer. Hand finished to provide great details.
1/170th scale. 14.5" Wingspan x 16.5" length.
No. AAB6D-UA Only $194.95
Boeing 747-400 - Northwest Airlines
Not shown. Also from our Premier Series. Same size as above.
No. AAB6D-NW. Only $194.95
Standard Display Models
Precision molded of hi-impact plastic. Beautiful finish faithfully reproduces the original aircraft markings. Durable models that are easy to clean and maintain. Suitable for airline offices, ticket counters and other exposed locations. All models are same size as the Boeing 400-200 display models: 12" Wingspan by 14" long.
Boeing 747-400 - Northwest
No. AAB60-N2. Only $109.95
Boeing 747-400 - United
No. AAB60-U2. Only $109.95