Bell UH-1 Iroquois "Huey," "Huey Cobra"
The Bell UH-1 is the most widely used military helicopter. Officially the UH-1 series is the Iroquois. Officially. When the Army adopted its own two-letter designation system, it became the HU-1 (Helicopter Utility), which led to the nickname "Huey." The DOD standard designation system reversed this to UH-1. The name was commonly used that the AH-1 attack version was officially named the Huey Cobra.
In 1955 the army wanted a utility helicopter designed around a turboshaft engine. The Army did not have its own aircraft development capability, so it had the Air Force develop it. The design was based on Bell's Model 204, powered by a new Lycoming T-53 engine. It quickly proved its value and the army began taking delivery on them. In 1962, the Navy began buying them, in response to the Marine Corp's need for an assault combat helicopter.
The army began shipping them to Vietnam in 1963. The Marine Hueys began Vietnam service in 1964. The Huey was the work horse of the Viet Nam war. It's many missions, included air assault, armed patrol and escort, command and control, troop/cargo transport, combat reconnaissance support, amphibious assault, light utility missions, and medical evacuation. Army, Navy and Marine Corps Hueys evacuated 378 thousand casualties between 1965 and 1969.
More than 9,000 Hueys were produced from the 1950s to the present. More than 5,000 of them were flown in Southeast Asia. Today it is flown by about 40 countries.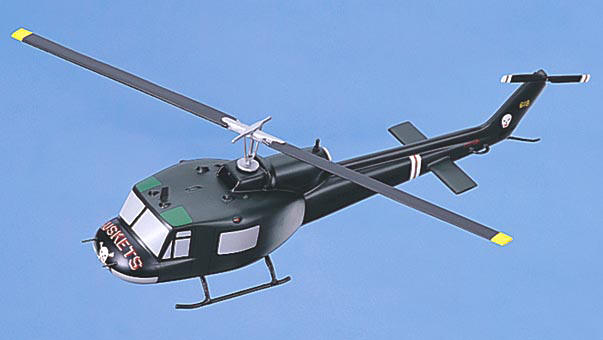 UH-!B Iroquois - "Muskets"
Premier Series. 1/33rd scale. 17.85" rotor spread x 15.5" long
AHA1D-P1. Only $209.95
UH-!N Iroquois - Twin Two Twelve
Premier Series. 1/33rd scale.
15" rotor spread x 15.5" long
AHA1D-P2. Only $209.95
UH-1D Iroquois - "Huey"
Standard Series. 1/32nd scale.
18" rotor spread x 15.75" long
AHA1D-ST. Only $149.95