The Hawks are twin-engine helicopters produced by Sikorsky that have been widely used by the United States military. This has resulted in many designations.
The UH-60 Black Hawk was fielded by the Army in 1979. It is the front-line utility helicopter and is used for air assault, air cavalry, and aeromedical evacuation units. It is designed to carry 11 combat-loaded, air assault troops, a 105-millimeter howitzer and 30 rounds of ammunition. First deployed in 1978, the Black Hawk's advanced technology makes it easy to maintain in the field. The Black Hawk has performed admirably in a variety of missions, including air assault and air cavalry and aeromedical evacuations. In addition, modified Black Hawks operate as command and control, electronic warfare, and special operations platforms.
The MH-60 Pave Hawk is operated by the Air Force Special Operations Command, a component of the U.S. Special Operations Command. Received in 1982, it's primary wartime missions are infiltration, exfiltration and resupply of special operations forces in day, night or marginal weather conditions. Other missions include combat search and rescue. During Desert Storm, Pave Hawks provided combat recovery for coalition air forces in Iraq, Saudi Arabia, Kuwait and the Persian Gulf. They also provided emergency evacuation coverage for U.S. Navy sea, air and land (SEAL) teams penetrating the Kuwait coast before the invasion.
The Navy designated it the SH-60B Seahawk when it began receiving them in 1983. It uses them in an anti-submarine role. They are assigned to cruisers, destroyers, and frigates to deploy sonobouys (sonic detectors) and torpedoes. The Coast Guard's HH-60J Jayhawk, are equipped with a rescue hoist with a 250 foot (75 meter) cable that has a 600 pound (270 kg) lift capability, and a retractable in-flight refueling probe. The Hawks have proven so reliable that the President has one too.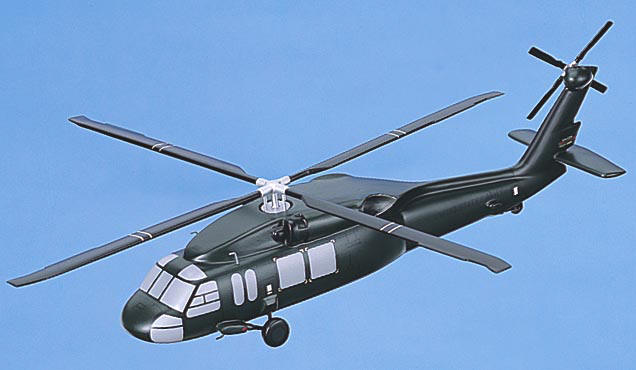 UH-60 Blackhawk
Premier Series. 1/49th scale. 5" width x 16.75" long.
No. AHA8D-PR. Only $209.95
VH-60D Seahawk - Marine One
Standard Series. 1/48th scale.
15.5" rotor spread x 13" long.
No. AHA8D-S1. Only $149.95
HH-60J Jayhawk - US Coast Guard
Standard Series. 1/48th scale.
13.5" rotor spread x 12.5" long.
No. AHA8D-S2. Only $149.95
MH/HH-60 Pavehawk
Standard Series. 1/40th scale.
16.5" rotor spread x 18.15" long.
No. AHA8D-S3. Only $179.95.
MH/HH-60 Pavehawk - New Design
Standard Series 1/40th scale.
16.5" rotor spread x 18.15" long.
No. AHA8D-S4. Only $179.95
VH-60B Seahawk - US Navy
Standard Series. 1/48th scale.
13.5" rotor spread x 12" long.
No. AHA8D-S7. Only $149.95.
UH-60L Blackhawk
Standard Series. 1/48th scale.
13.5" rotor spread x 12" long.
No. AHA8D-S5. Only $159.95