The latest and most original helicopter to be designed and produced by Kaman is the K-MAX "Aerial Truck" which first flew on 23 December 1991. By February 1995 the helicopter had gained certification in the United States and Canada and had amassed over 2000 hours on type. During 1994, the first five production K-Max had been delivered to customers and were meeting their objectives of low operating costs with high reliability and low maintenance.
The K-MAX is the first helicopter specifically designed, tested and certified for repetitive external lift operations such as logging, fire fighting, construction, reforestation and oil/mineral exploration. K-MAX is based around Kaman's unique intermeshing "Synchro-Lift" rotor technology using counter-rotating main rotors and servo-flap system with no tail-rotor, ensuring that all the power goes directly to the rotors for lift. Powered by a single Textron-Lycoming T5317A-1 gas turbine, a commercial variant of the 1800shp T53-L-703 used by the military, the K-MAX powerplant has been derated to 1500shp to make it compatible with the transmission and to ensure longer engine life.
Designed for single-pilot operation with no room for passengers, the cockpit provides the pilot with unsurpassed visibility for external lift activities. K-MAX weighs 2120kg empty and will lift a 2255kg external load to 2400m with plenty of power to spare.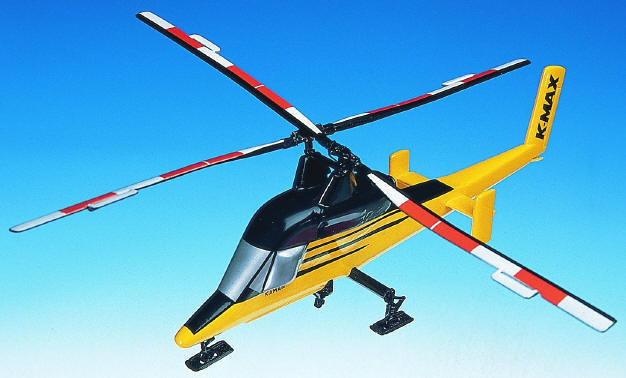 Kaman K-Max
Standard Series. 1/40th scale. 11.75" rotor spread x 11.75" long.
No. AHC1D-ST. Only $199.95