Sikorsky H-53 Series helicopters combine power and versatility like nothing else in the sky. The twin-engine helicopter is capable of lifting 7 tons. They're at home in searing desert heat. Arctic cold. And everything in between. Flying a gamut of missions. Including heavy-lift operations. Military transport. Search and rescue. Vertical replenishment. Vertical onboard delivery. Airborne mine countermeasures. Advanced early warning. Minesweeping. Humanitarian aid. Disaster relief.
The CH-53D Sea Stallion is designed for the transportation of equipment, supplies and personnel during the assault phase of an amphibious operation and subsequent operations ashore. Capable of both internal and external transport of supplies, the CH-53D is shipboard compatible and capable of operation in adverse weather conditions both day and night. The CH-53D is now filling a role in the Marine Corps' medium lift helicopter fleet.
The HH-53 Super Jolly Green Giant helicopter was used extensively during the Vietnam War for special operations and rescue of combat personnel.
The MH-53J Pave Low III heavy-lift helicopter is the largest and most powerful helicopter in the Air Force inventory, and the most technologically advanced helicopter in the world. Its terrain-following, terrain-avoidance radar and forward-looking infrared sensor, along with a projected map display, enable the crew to follow terrain contours and avoid obstacles, making low-level penetration possible.
The newest military version is MH-53E Sea Dragon, is the Western world's largest helicopter. The MH-53E is used primarily for Airborne Mine Countermeasures (AMCM), with a secondary mission of shipboard delivery. Additional mission capabilities include air-to-air refueling, hover in-flight refueling, search and rescue, and external cargo transport operations, in both land and seaborne environments.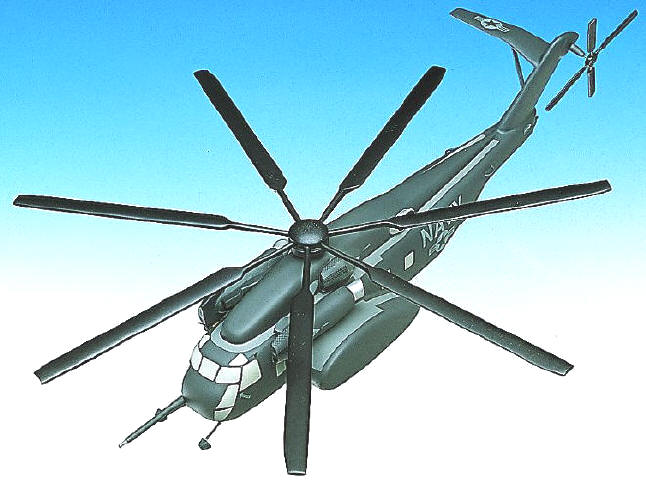 MH-53E Super Sea Dragon
Standard Series. 1/48th scale. 19.75" rotor spread x 18.75" long.
No. AHA6D-S4. Only $179.95
CC-53E Super Sea Stallion - US Marines
Standard Series. 1/48th scale.
19.5" rotor spread x 18.25" long.
No. AHA6D-S2. Only $169.95
MH-53J Pave Low
Standard Series. 1/48th scale.
19.5" rotor spread x 19.5" long
No. ANA6D-S5. Only $179.95
HH-53D Super Jolly Green Giant
Shown at left. Standard Series. 1/48th scale.
19.5" rotor spread x 18.25" long.
No. AHA6D-S1. Only $159.95
CH-53E Presidential Support
Shown at Right. Standard Series. 1/48th scale.
19.5" rotor spread x 18.25" long
No. AHA6D-S3. Only $179.95